Elin Woods in China, Tiger Woods in 26th Place
Elin Woods and Tiger Woods are still officially married, but clearly living separate lives as he resumes his golf career and his estranged wife travels the globe.
It's unlikely they could be much farther apart, literally or otherwise. They aren't on speaking terms and she's in China visiting her brother (8,058 miles away).
On Friday, Elin packed up the couple's two kids, Sam, 1, and Charlie, 2, and left Orlando to visit her brother Axel in Shanghai. She'll be there at least a week.
As for Tiger, he was back on the golf course competing in the Memorial Tournament in Ohio. He's a respectable three-under, but tied for 26th as of right now.
"I haven't played," Woods told ESPN. "This is my 10th round of the year. Usually you're like that in January. Here we are in June. I need competitive rounds."
What was he doing in January? Oh, yeah, the sex rehab thing.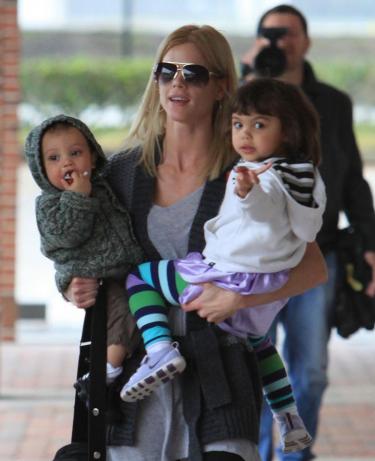 Elin Woods is clearly focusing on life after Tiger.
Despite Tiger's astonishing double life, the couple was seemingly trying to reconcile and even making progress, spending a lot of time together early in the year.
Things grew icy between the pair prior to Tiger's return to golf at the Masters, though. They have spoken since, and she may be moving to her native Sweden.
The impending Tiger-Elin Woods divorce is still speculative - neither party has filed any papers - but reports suggest that it's about to get far more contentious.
Elin has decided to go for full custody of their two children, not agreeing with the joint custody offer Tiger reportedly seeks. Things could turn ugly pretty fast.
She's also shown reluctance to abide by the confidentiality Tiger wants, leading some to think her quiet dissatisfaction with him could eventually become public.
I'm totally a member of ...
View full post on The Hollywood Gossip

More Blogs