Kristen Stewart: Not Even a Tiny Bit Pregnant
Welcome to tabloid journalism 101, readers. Pay close attention to this lesson...
Earlier this week, Kristen Stewart and Robert Pattinson taped an appearance on the Oprah Winfrey Show that will air tomorrow afternoon.
As reported by THG, the pair met with the host beforehand and were warned that she'd ask about the status of their relationship. At this point, Rob and Kristen admitted they were dating - but said they didn't wish to discuss it on-air.
Oprah said fine, they could shoot down the question however they wanted to when it came up.
So, when the cameras rolled and the inevitable was asked, Pattinson joked that Stewart was pregnant. That's it. End of story. Oprah viewers will see these 10 seconds play out tomorrow, as part of an in-depth interview that reveals actual information.
Now, cut to this week's OK! Weekly cover: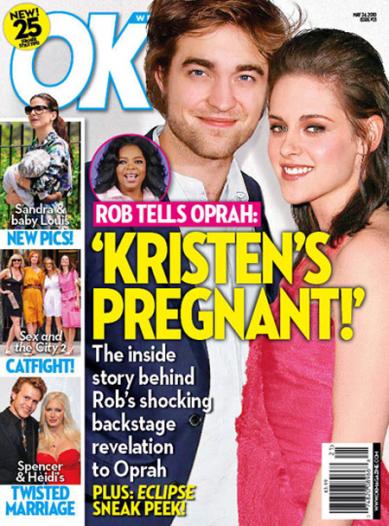 SIGH.
View full post on The Hollywood Gossip