Lindsay Lohan: Drinking or Not?
When Lindsay Lohan's SCRAM ankle monitor went off, we assumed she was drinking or tampering with it. Yet her lawyer swears a test proves she was clean.
On the flip side, Judge Marsha Revel revoked Lindsay's bail immediately, issued a bench warrant and set the actress/train wreck's bail at another $100,000.
Why would she do that if Lohan were so clean?
The legitimacy of Lindsay's latest test, cited by her lawyer as proof that she is "doing great at being clean and sober," has obviously drawn some skepticism.
Yesterday, Radar Online reported that Lindsay's blood-alcohol level was between .03-.04 when her ankle monitor went off at a post-MTV Movie Awards bash.
Under the legal limit, absolutely. But if that's true, she also had a drink or two, in violation of the court's order - and how would she then pass a urinalysis?
Time.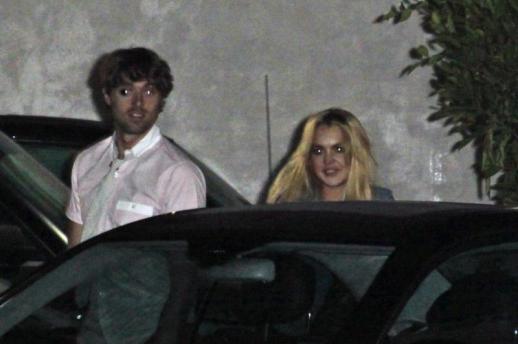 Lindsay clubbing this weekend. Obviously. [Photo: PacificCoastNewsOnline.com]
It's possible, even likely, that she would have a .00 BAC the morning after drinking, even relatively early. You sober up, alcohol leaves your system. Boom.
Says Kathleen Brown of the Alcohol Monitoring Services:
"That is precisely the reason judges order 24/7 alcohol monitoring, and the reason that this judge ordered both random drug tests and SCRAM in this case."
"Alcohol metabolizes quickly, and is very difficult to catch in random tests. Random tests are good at [detecting] drugs, as residual indicators last longer."
So if the much-touted test was performed even a few hours after the alleged violation, it might show a perfectly clean Lindsay Lohan. The SCRAM don't lie.
Brown also notes that in the case of Lindsay Lohan, "drug and alcohol testing were not conditions of probation. They were conditions of the court for bond."
"The court is managing the drug and alcohol testing," but as they pertain to her previous legal woes, "results are not determinant of probation violations."
We just wonder what bad excuse Lindsay will use.
View full post on The Hollywood Gossip

More Blogs